Network Status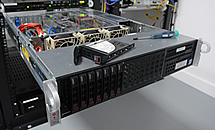 Our network, servers, and services are continually monitored from internal and external systems.


We use PRTG Network Monitor with over 1,100 sensors to monitor Network, Servers, and Services. If a problem is detected, mobile push notifications are sent to 24/7 technicians to begin working fixing any issue within minutes.


The table below shows the current state of our networks and server availability in real-time. This data is taken from a live feed from our monitoring systems.


| | |
| --- | --- |
| Core Networks | Status |
| Network Route A | OK |
| Network Route B | OK |
| | |
| --- | --- |
| Network IP Transit IPv4 | Status |
| Lumen / Level 3 | OK |
| Cogent Communications | OK |
| Telia Company AB | OK |
| | |
| --- | --- |
| Network IP Transit IPv6 | Status |
| Lumen / Level 3 | OK |
| Cogent Communications | OK |
| Arelion / Telia | OK |
DC Backhaul Fibre Circuits

Status

Neos Networks - Web Wiz DC

to Telehouse North, Docklands, London

OK
Virgin Media

- Web Wiz DC to Cogent DC, Canary Wharf, London

OK
Openreach

- Web Wiz DC to Equinix LD5, Slough

OK
| | |
| --- | --- |
| eBGP Routing | Status |
| Primary | OK |
| Secondary | OK |
| | |
| --- | --- |
| Edge Firewalls | Status |
| Primary | OK |
| Secondary | OK |
| | |
| --- | --- |
| Managed Cloud and Dedicated Servers | Status |
| Managed Dedicated Servers | OK |
| Managed Cloud Servers | OK |
| VPN Service | OK |
| | |
| --- | --- |
| Shared Hosting Web Servers | Status |
| Web220-Helios | OK |
| Web230-Zeus | OK |
| Web20-Ajax | OK |
| Web21-Nemesis | OK |
| Web22-Europa | OK |
| Web23-Tellus | OK |
| Web24-Aura | OK |
| Web25-Eos | OK |
| Web26-Rhea | OK |
| Web27-Dionysus | OK |
| Web29-Orion | OK |
| Web33-Phoenix | OK |
| Web34-Medusa | OK |
| Web35-Atlanta | OK |
| Web36-Colossus | OK |
| Web37-Altair | OK |
| Web38-Oceania | OK |
| Web39-Voyager | OK |
| Web40-Pioneer | OK |
| Web41-Discovery | OK |
| | |
| --- | --- |
| Shared Hosting Mail Services | Status |
| Mail-Atlas (Primary) | OK |
| Mail-Apollo (Backup MX) | OK |
| SmarterMail Webmail Service | OK |
| SMTP Service | OK |
| POP3 Service | OK |
| IMAP Service | OK |
| | |
| --- | --- |
| Shared Hosting SQL Server Database Servers | Status |
| MSSQL2 | OK |
| MSSQL4 | OK |
| MSSQL5 | OK |
| MSSQL6 | OK |
| MSSQL7 | OK |
| MSSQL8 | OK |
| | |
| --- | --- |
| Shared Hosting MySQL Database Services | Status |
| MYSQL2 | OK |
| MYSQL4 | OK |
| MYSQL5 | OK |
| MYSQL7 | OK |
| MYSQL8 | OK |
| | |
| --- | --- |
| DNS Servers | Status |
| Authoritative DNS Servers IPv4 (NS1, NS2, NS3, NS11, NS12) | OK |
| Authoritative DNS Servers IPv6 (NS1, NS2, NS3, NS11, NS12) | OK |
| Recursive DNS Servers (DNS1, DNS2, DC01, DC02) | OK |
| | |
| --- | --- |
| NTP Time Servers | Status |
| NTP Time Servers IPv4 (NTP0, NTP1, NTP2) | OK |
| NTP Time Servers IPv6 (NTP0, NTP1, NTP2) | OK |
| | |
| --- | --- |
| Shared Web Hosting Services | Status |
| Control Panel Service | OK |
| FTP Service | OK |
| SmarterStats Website Statistics Service | OK |